Las Vegas Retirement Communities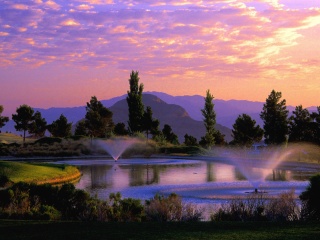 ~Explore Sun City Summerlin Homes~
Search Sun City Summerlin Homes for Sale
View Sun City Summerlin Foreclosures
Browse Sun City Summerlin-Short Sales
Sun City Summerlin, an age 55+ Las Vegas retirement community is located in the beautiful master planned community of Summerlin. Sun City Summerlin sprawls across 2,400 majestically rolling acres that boast magnificent views of the surrounding mountains and the Las Vegas Strip. This ideal elevated location offers cooler temperatures and cleaner air than communities in the lower parts of the Las Vegas Valley. Featuring over 7500 homes, Sun City Summerlin offers single family, garden villas and patio homes for the active adult. With 3 golf courses, beautiful greenbelts and extensive recreation facilities, Sun City Summerlin is beautifully maintained and a great spot for those looking for either an active, social retirement or simply a beautiful place to live.
Sun City Summerlin Homes were built in 3 phases and have 3 different sets of model floor plans. As the retirement community was built, the terrain became higher and higher, and as a result some of the homes at the tippy top of the Sun City Summerlin community have awesome views of the Strip and the golf courses.
In addition to the 3 Billy Casper / Greg Nash golf courses and 3 restaurants, there are 4 social and recreation facilities: Mountain Shadows, Desert Vista, Sun Shadows and the Pinnacle. They incorporate outdoor and indoor pools with spas, 14 tennis courts, 2 paddle tennis courts, craft rooms, card rooms, social halls, a 312-seat theater, exercise rooms with the latest hydraulic exercise equipment, 8 bocce ball courts, 1 racquetball court, miniature golf course and a softball diamond. More than 80 resident-organized social and recreational clubs cover a wide variety of interests.
Conveniently located close to shopping, banks, 2 libraries, hospitals, Boca Park, Tivoli Village, Suncoast, JW Mariott, and Red Rock Resort and Casino, Sun City Summerlin Real Estate has continually remained a great place to call home.
A client to whom we sold a home high up in phase three of in Sun City Summerlin called us to thank us and told us that when he opened his eyes in the morning he felt as if he was in heaven. That is just how beautiful a setting Sun City Summerlin homes have.
After browsing the links above, please contact us with your favorites listings and we will research them further. You may also be interested in exploring Siena homes for sale as well. We look forward to hearing from you soon and helping you find the perfect retirement home in Las Vegas.